How Courier Services Make Your Life Easier
Many renowned international courier services companies have been making it to the headlines of the courier services market. Their services are matchless and unprecedented in terms of performance. Whether you want to order something or just send a delicate gift across the border, courier services are a blessing in disguise! Let's see how courier services have been making our lives easier since so many years!
Exceptional Logistics Services
Courier services not only include the shipment of small articles and items, but also larger items. These courier services have been rescuing you from the troubles of taking pain of carrying items from one place to another. These courier services are like a safe haven that provide you comfort and relief.
Ever asked someone to bring your items who ruined your stuff before they reached the destination? Have you been a victim of mishandled items in the past? Well, courier services are here to rescue you!
Special Personalized Gift Deliveries
Missing your loved ones this Christmas? Courier services make sure to accommodate their clients in every possible way which includes advice on the kind of services you should acquire, packing and much more. They focus on all the intricate details and address every aspect no matter how time taking it might be. Besides, many international courier services offer special discounts on public holidays like Christmas, Eid etc. They even offer sending gifts and cards to your loved ones. Courier services have been making such occasions special and eradicating miles of distances by warming the hearts.
Efficient Commercial Moving Solutions
Many courier companies are known for providing courier services in the domain of high value goods. Courier services that are specially designed to assist businessmen and merchants, provide them the most dependable commercial moving services. The courier companies understand that not all businesses can afford their own trucks/planes for moving freight and load. Therefore, these courier services provide you a golden opportunity to cut down on your expenses!
These courier companies have a smoothly operating and unhindered system of trucks/planes to move the freight from one place to another. Loading and unloading is also taken care of by them. You no longer have to buy trucks and take the pain of looking after them. Their staff makes sure to provide you the best experience. With a skilled team of technicians working day and night to maintain the vehicles and taking your packages through safe and shortest routes, they make sure to provide you an efficient service. You don't have to even pay heed to getting driver licenses as they have got it all covered for you! Their team is going to personalize the logistic methods to give you the most feasible solution of item delivery. Using their acumen, their team is going to make sure that your business/ company reaps great benefits from their services!
REQUEST A QUOTATION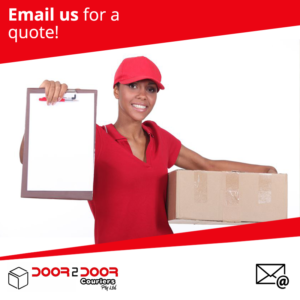 D2D courier service ensures you best quality services. Client's satisfaction and peace of mind is our top most priority. Our team makes sure to reflect their best value, integrity and professional ethics. We are surely able to demonstrate the trustworthiness and subject matter expertise that you need at the moment. Whether it's the packing you need help with, or you don't know whether commercial services would suit you or not, we are here to help!
Over the course of years, our team has successfully dealt with all the ongoing and forthcoming issues of clients.  We are available for you all the time throughout and we do not leave in the middle of the road. Our professionalism and personalized service is likely to exceed all your expectations.
We at D2D Courier Services are skilled in networking and our track record of success and professionalism speaks for our services.
Our secret of success lies in going beyond our customers expectations and being sincere, professional, and honest to them. Our team is erudite and vigilant and our services are worth every dime! We make sure your money is being well spent.